:::
Product Info.
Online Date: 2020/01/14
Modify Date: 2020/01/14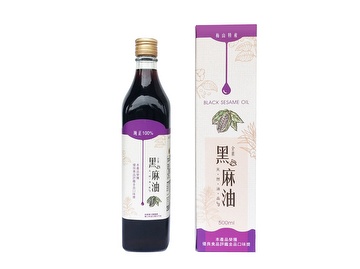 Black Sesame Oil
Taipei Nangang Exhibition Center, Hall 1 (TaiNEX 1) M0635
Product Model:
Description
Description
It is made from 100% pure black sesame and without mixing white sesame. The food nature is warm, not hot and has rich aroma.
2. It is rich in calcium and phosphorus (the necessary nutrients in the growth of teeth and bones). The sesamin in sesame can reduce blood lipids, and lower cholesterol. It also contains the body everyday needs: omega-3 and omega-9 fatty acids.
3. Black sesame oil contains natural vitamin E.
4. Black sesame oil is extremely stable, which allows it has long shelf life.
5. Black sesame oil is suitable for stewing with any ingredients and is an ideal nutritional supplement in winter time.

Specification
Specification
500 ml/bottle
12 bottle/box
Other Products Offered by This Company