:::
Product Info.
Online Date: 2020/01/14
Modify Date: 2020/01/14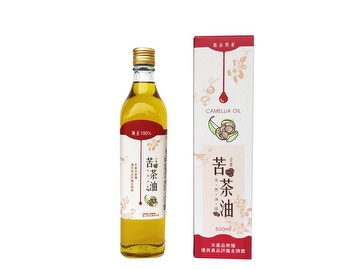 Camellia Oil
Taipei Nangang Exhibition Center, Hall 1 (TaiNEX 1) M0635
Product Model:
Description
Description
1. Camellia oil, also known as oriental olive oil. The nutrients of camellia oil are similar to olive oil's but are more functional.
2. Camellia oil contains 85% of monounsaturated fatty acid, plant sterols (can help the body to metabolize bad cholesterol into good one), camellia glycosides, and tea polyphenols (helps to lower blood lipid and prevents cardiovascular disease).
3. Our company takes the first cold pressed oil to produce our products so they are 100% of purity and contain the most nutrients. After experiencing food safety crises, many Taiwanese do not like refined oil products. Although our products, which adopted the traditional spiral pressing, have higher costs to compare with other common cooking oil, consumers accept them and love to use them.
4. Our company's camellia oil has smoke point of 220° C. It does not produce fumes easily during cooking. Our oil can be used as daily cooking oil and is also suitable for a variety of Eastern and Western cuisine.
5. Our camellia oil has high nutritional value. It is mild and not hot (in food nature), and is suitable for prenatal and postpartum women to retain good health.
6. Our own nursery had cooperated with the Tainan District Agricultural Research and Extension Station, Council of Agriculture, to breed up a new variety. The crops of this variety have higher nutritional value. We use the crops to produce our products which make the taste is unique and with better palatability.

Specification
Specification
500 ml/bottle
12 bottle/box
Other Products Offered by This Company