:::
Product Info.
Online Date: 2020/08/19
Modify Date: 2020/09/24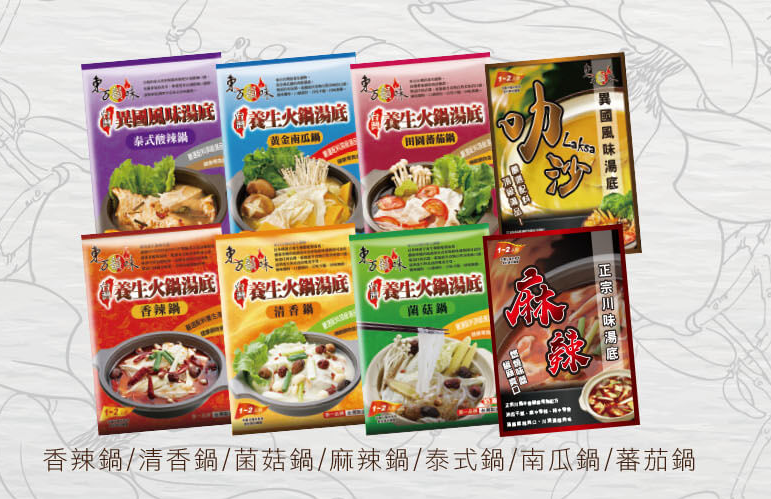 Hot Pot Soup Base
Taipei Nangang Exhibition Center, Hall 1 (TaiNEX 1) N0510
Product Model:
Description
Description
Health Hot Pot Soup Base from Taiwan prepared with a variety of Chinese herbal medicine diets. The rich and mellow soup retains the original flavor of the ingredients and can be eaten after boiling. Without any sauce, it can enhance the natural and delicious taste of food. Achieve the double enjoyment of health and tasty food. The unique flavor comes from Taiwan, the taste is excellent, the food is not greasy, and the aftertaste is endless!
Specification
Specification
Hot Pot Soup Base Series: Mild Spicy Healthy Hot Pot Soup, Original Healthy Hot Pot Soup, Mushroom Healthy Hot Pot Soup, Hot Spicy Healthy Hot Pot Soup, Thai-style Healthy Hot Pot Soup, Tomato Healthy Hot Pot Soup, Pumpkin Healthy Hot Pot Soup, Laksa Healthy Hot Pot Soup

Weight:60g
Certifications
Certifications
食品業者登錄字號:D-154070306-00000-6
投保產品責任險字號:40-105-06616573-00009-PDL
Other Products Offered by This Company