:::
Product Info.
Online Date: 2020/08/19
Modify Date: 2020/08/24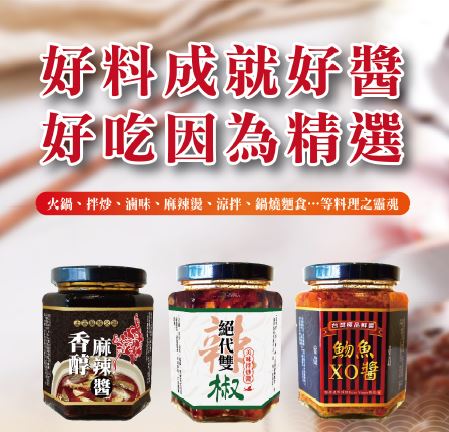 Super Fresh Sauce
Taipei Nangang Exhibition Center, Hall 1 (TaiNEX 1) N0510
Product Model:
Description
Description
The sauce is oringinated from Taiwan. Fresh product do not contain preservatives. High quality, safety and hygiene of the best sauce. Worthy of praise. Your best choice of sauce.
Specification
Specification
Sauce series:Silverfish XO Sauce、Hot & Spicy Sauce、Chili Sauce

Weight:250g
Certifications
Certifications
食品業者登錄字號:D-154070306-00000-6
投保產品責任險字號:40-105-06616573-00009-PDL
Other Products Offered by This Company