:::
Product Info.
Online Date: 2019/04/02
Modify Date: 2019/04/02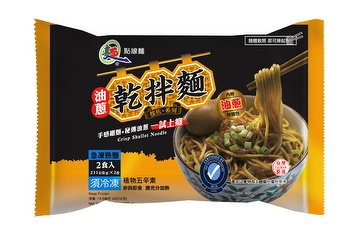 Shallot Dry Noodle
Taipei Nangang Exhibition Center, Hall 1 (TaiNEX 1) K0824
Product Model:
Description
Description
Simple but aromatic smell of shallot combines with PLN noodle makes the best shallot dry noodle. You will never get tired of it!


Suggestions:

Step 1. Add noodle into boiling water.
Step 2. Use chopsticks to stir for 30-40 seconds and remove noodle.
Step 3. Put seasoning packs into boiling water to heat up for 1 minutes.
Step 4. Mix the seasoning with noodle and enjoy.

No need to defrost before cooking. You can enjoy delicious noodle easily.
Specification
Specification
Chinese Ramen
211 g x 2 pieces
Storage Keep refrigerated ≤ -18℃

Launched Year
Launched Year
2017
Certifications
Certifications
【Innovation】
In 2015, series of frozen cooked noodle were being launched. Fortunately, our frozen products are being trusted and loved by our consumers. We will still concentrate on inventing new frozen noodle and hope that we can keep bringing more tasty treats to our consumers.

【Quality】
PLN Food Co., Ltd. became the first noodle factory which has received cleanroom verification verified by SGS. All our products have passed SQF and Halal certification. SQF is the most rigorous food safety management verification system in the world.We use computer to automatically control process conditions so that we can minimize contamination risk while processing. Individually Quick Freezing (IQF)_ however, makes noodle be frozen from room temperature to -18℃ in 8 minutes. This can slow down the process of ice crystals and make noodle be fresh and tasty. We always put efforts to provide the best qualities.

Awards
Awards
All our products have passed SQF(Safe Quality Food) certification.

First noodle factory which has received cleanroom verification verified by SGS.

Have received ISO 22000 certificate and HACCP certificate.

Use newest type of machine from Japan make our noodle making skill superior to other noodle factory.

Other Products Offered by This Company