:::
Product Info.
Online Date: 2019/02/13
Modify Date: 2019/02/13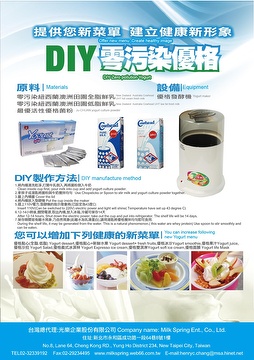 DIY zero pollution yogurt
Taipei Nangang Exhibition Center, Hall 1 (TaiNEX 1) K0429
Product Model:03
Description
Description
1. Manufacturing method are very simple, easier operation
2. Superior quality and hifh density, it is very delicious..
3. It is very cheap. Cost is 1/3 of market price
4. It can create a different yogurt menu and enchance company
healthy image
5. Toll: Yogurt maker. Materials: Juchuan yogurt culture powder.
6. Yogurt Menu: Yogurt Desserts, Yogurt smoothe, Yogurt juice, Yogurt salad, Yogurt expresso ice cream, Yofurt soft ice cream. Yogurt lofe mask.


Specification
Specification
Materials: Cowhead UHT Full cream fresh milk, JuChuan Yogurt Culture powder
Tool: Yogurt maker
Methods: 1liter milk 1 pack powder. In 43 degree c 12 hours fermented
finished Yogurt keep in refrigerator in 14 days to eat out.
Launched Year
Launched Year
2005
Certifications
Certifications
Certificate of HALAL
Product Discount
Product Discount
10% discount of Cowhead UHT fresh milk
Other Products Offered by This Company