:::
Product Info.
Online Date: 2019/03/21
Modify Date: 2019/03/21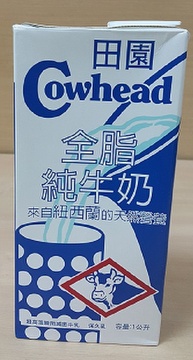 Cowhead UHT full cream fresh milk
Taipei Nangang Exhibition Center, Hall 1 (TaiNEX 1) K0429
Product Model:001
Description
Description
1. Certificate of origin: New Zealand. 100% New Zealand raw milk manufacture.
2. Started importing in 2002 to Taiwan. It is 1st container importing milk and has been 1st milk brand of importing fluid milk.
3. It manufacturred by Fonterra Brand (NZ) Ltd which are the biggest dairy plant in New Zealand.
4. Raw milk has Halal international certificate and gurrante the quality.
5. NZ dollar 20,000,000 for Public & products liability certificate of currency.
6. UHT sterlization. the shelf life will be 12 months in the room temperature. It id good for logistics and save the electricty.
7. For Latte and Cappuccion, the milk foam are thin and dense and keep longer time.
8. Size are 1000cc which are convenient to use.

Specification
Specification
1. 1000cc per pack, 12 packs per cartons
2. Shelf life: room temperature 1 year
3. Keep in refrigerator once opening and drink it up 7 days.
Launched Year
Launched Year
2002
Certifications
Certifications
HALA L certificate of raw milk, Haccp
Product Discount
Product Discount
Place an order during exhibition will be 90% discount
Other Products Offered by This Company